a glimpse at the interplay between real and imagined.
COMMENT#1 YATZER
Yayoi Kusama and Ai Weiwei's Works Come to Life in a 3D Video by Ziye Liu
A "different perspective" is what could simplistically describe 
Themes and Variations
, the entrancing computer graphic, four minute short film created by 3D artist, 
Ziye Liu
. The stirring film – which is based on four contemporary artworks from artists 
Ai Weiwei
 and Yayoi Kusama – literally makes the art come to life as it explores the relationship between the art and the space that it is placed in, as well as the relationship between reality and imagination, through the use of the infinite potential and possibilities of 3D digital art.
The stars of the show are undoubtedly the four artworks – Yayoi Kusama's "Polka Dots" and "Narcissus Garden," and Ai Weiwei's "Untitled" and "Grapes" – as seen through the graphic artist's' eyes. "When I saw the original artworks in the museums and galleries, the vision came to my mind that their patterns and shapes could evolve into something completely new through 3D animation," Ziye shared with us. From conception to final vision, Ziye undertook everything from directing, to creating the models and the computer renderings, to editing… even composing the instrumental music, "On the Matter of Motion and Light" that, quite literally, speaks worlds about what is going on in the images.
3D animation brings ai weiwei + yayoi kusama's best known works to life
ziye liu's
 film generates new interpretations of some of ai weiwei and yayoi kusama's best known installations. using visual effects — such as texturing, lighting, rendering, and digital composting — liu turns static sculpture into dynamic objects and animated artworks
.'contemporary art such as conceptual art, kinetic sculpture and installation art all have a resemblance to the visual characteristics of computer generated imagery,' liu describes. 'the style of much contemporary artwork is very similar to the style of visual effects technique. the difference is that most of the artwork is static and restricted in motion, while visual effects provides infinite possibilities and will bring these artworks to a new level.'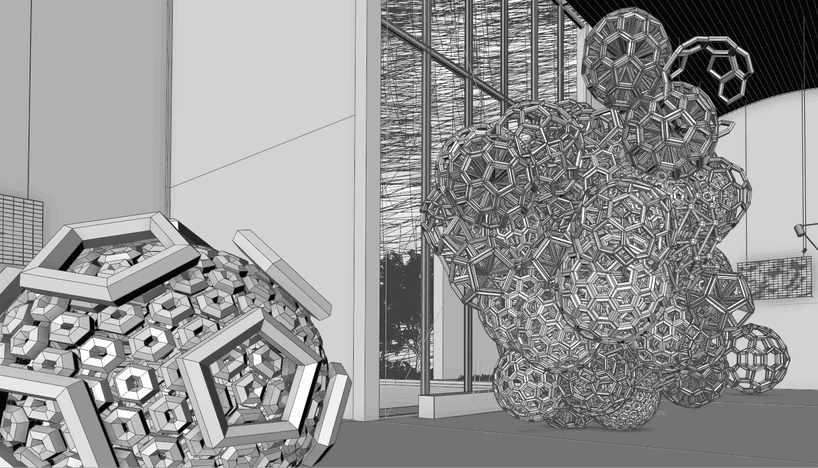 the 3D model is manipulated in infinite possibilities
CHECK OUT THEMES AND VARIATIONS BELOW.